DER GÄSTEFÜHRER


"Der Gästeführer ist eine Person, die Besucher in der Sprache ihrer Wahl führt und das kulturelle und natürliche Erbe eines Gebiets vermittelt, und die normalerweise über eine gebietsspezifische Qualifikation verfügt, die üblicherweise von den zuständigen Stellen ausgegeben und/oder anerkannt wird".

www.berlin-guide.org/Beruf.html

Seit 1991 führe ich Menschen aus nah und fern in Deutsch und in Englisch durch Berlin und Brandenburg. Meine Spezialschulung zum Stadtführer in Berlin habe ich bei der Berliner Bären Stadtrundfahrt GmbH begonnen und beim Verband der Berliner Stadtführer Berlin Guide e.V. nach DIN EN 15565 abgeschlossen.

Since 1991 I am guiding people in German and English from near and far through Berlin and the State Brandenburg. My special training to become a qualified tourist guide took place first with the company Berliner Baeren Stadtrundfahrten (BBS) and completed with the Tourist Guide Association according to EN 15565.

Ich habe an der Qualifizierung zum Gästeführer mit BVGD-Zertifikat DIN EN teilgenommen und die Voraussetzungen zum Gästeführer in Berlin - nach neuer europäischer Norm EN 15565 - erfolgreich abgeschlossen. Ich bin berechtigt mit dem unten gezeigten Qualitätssiegel in Berlin zu führen.

I have approached the professional qualification for Tourist Guides to DIN EN German Institute of Standardizations ) for the Region Berlin by the BVGD-Certificat DIN EN, according to the European standard EN 15565. I am entitled to carry the button as a seal of quality during guiding in Berlin.

THE TOURIST GUIDE


"The Tourist Guide is a person who possesses an area-specific Tourist Guide qualification issued and/or recognised by the appropriate publik authority in the country, in the language/s of their choice, interpreting the natural and cultural heritage of the area of qualification".

www.feg-touristguides.com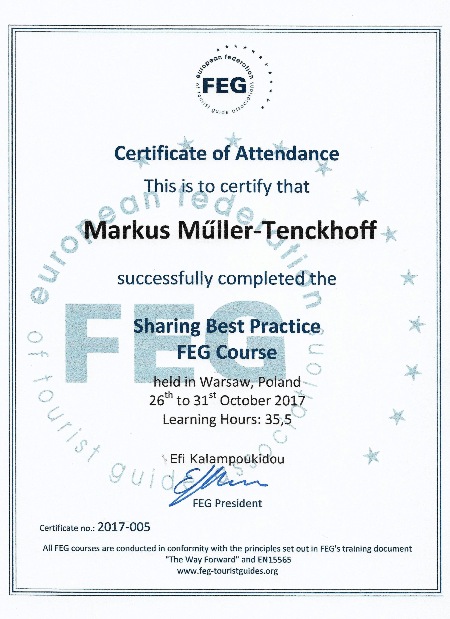 DER WELTGÄSTEFÜHRERTAG - THE INTERNATIONAL TOURIST GUIDE DAY

Der Weltgästeführertag (WGFT) wird weltweit als International Tourist Guide Day am 21. Februar veranstaltet. In Deutschland ist das Motto des Bundesverbandes der Gästeführer in Deutschland (BVGD e.V.) richtungweisend für die bundesweiten Aktionen.

The International Tourist Guide Day (ITGD) takes place worldwide on the 21st February. In Germany, the motto of the Federation of Guides in Germany (BVGD) is indicative for nationwide actions.

Weltgästeführertage / International Tourist Guide Days in Berlin

Informationen zu den unterschiedlichen Themenrundgängen unter dem BVGD Motto entnehmen Sie bitte der Website vom Verband der Berliner Stadtführer Berlin Guide e.V.

Information on the different topics under BVGD theme tours, see the website of the Association of Berlin Tourist Guides e.V.

www.berlin-guide.org/Welttag.html

"Reichstag": unter der Kuppel - under the cupula

Freier Eintritt - free entrance
https://bit.ly/2Bugp6E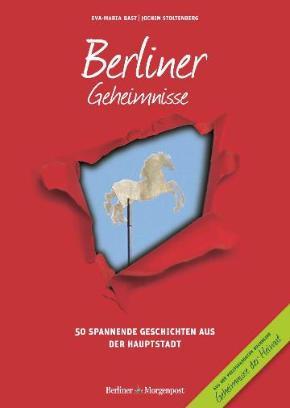 https://bit.ly/2LBwxKk